Do you ever feel like you're up against it from the off when you drop into the map on Fortnite?
We hand-picked some of our favorite unmarked drop spots which will get you to more endgames consistently.
Here's what we found:
North Pleasant House Cluster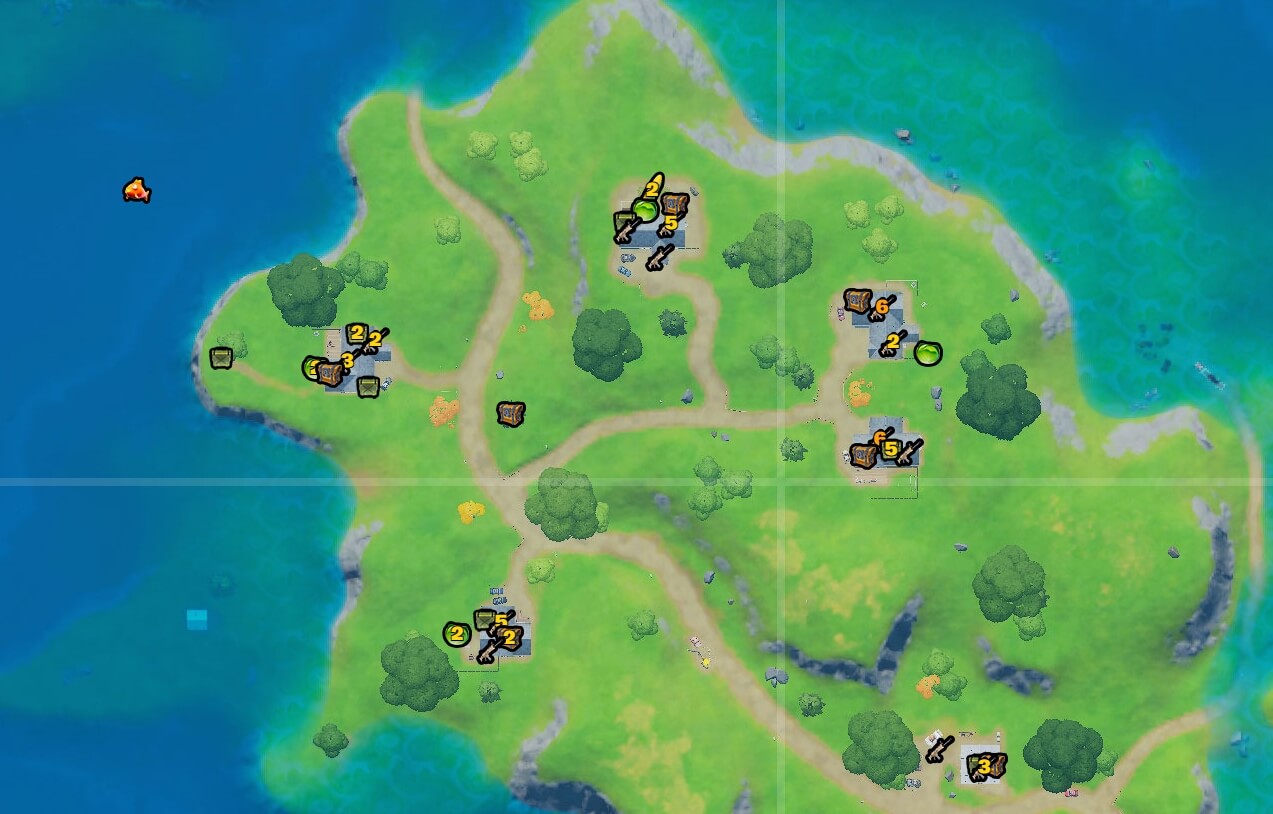 The North Pleasant house cluster is one of my go-to spots every time the early bus path crosses this area.
First off, the loot here is incredibly *vanilla*. The five houses are all structured similar to the neighboring Pleasant Park city which all offer a minimum of one chest and a small handful of floor spawns.
In my opinion, surviving the early game at this spot is the easiest due to an abundance of rotation options. If you get scuffed loot out of your house and don't feel comfortable contesting an opponent, simply rotate South to Durr Burger and/or West Side outskirts.
When playing in a tournament, having the option to disengage in the early game is one of your most valuable assets. This all but guarantees your ability to play out all 10 games within the three-hour event window.
– Contested: 5/10 (lower is better for this metric)
– Loot: 6/10
– Positioning/Rotation: 8/10
Castle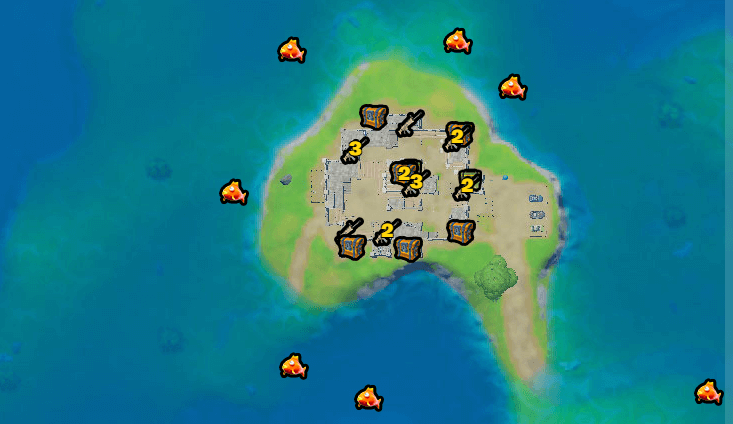 Castle's loot is much denser than the previous drop spot which is ironic considering it's the lesser contested of the two. You'll be able to loot all seven chests and dozen floor spawns in record time.
But wait, there's more (this sounds like a cheesy infomercial). Whirlpools surrounding Castle offers the easiest rotation and a safe path to the midgame.
The abundance of fishing wells just past the whirlpools means you will not have to worry about heals.
– Contested: 4/10
– Loot: 7/10
– Positioning/Rotation: 6/10
Weather Station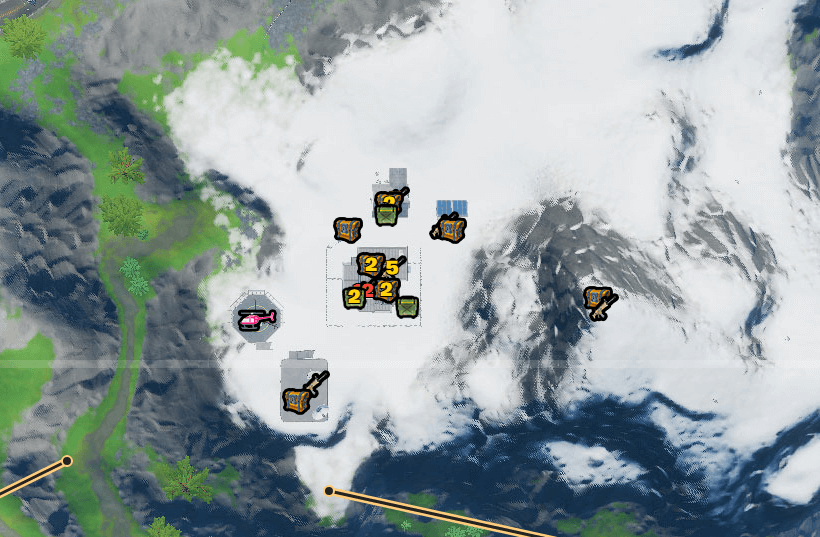 Among all the drop spots mentioned in this list, Weather Station is **by far** the riskiest. Due to its proximity to Catty Corner, you are within eyeshot of third partying and scooping up the infamous shockwave launcher.
For those who have been living under a rock (apologies Mr. Patrick Star), the shockwave launcher is by far the most OP weapon in the game right now. For most games, owning the shockwave launcher is the win condition.
Land Weather Station as a slightly less contested alternative to directly dropping Catty with the same reward.
– Contested: 8/10
– Loot: 10/10
– Positioning: 7/10
Island East of Rig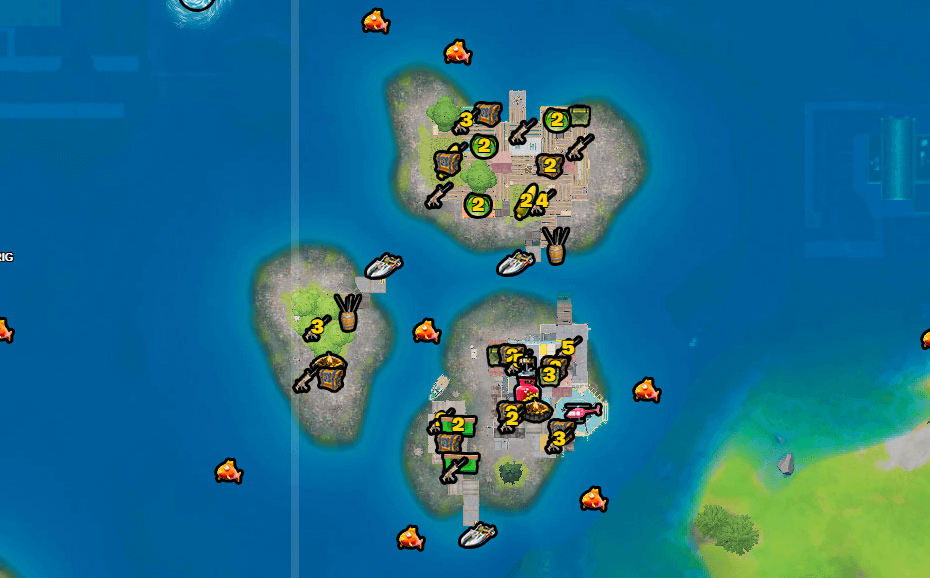 Hopping across the map, we find ourselves in another high risk, high reward area. If Weather Station is too RNG for your liking, the island to the east of Rig is a more mellow alternative.
An abundance of chests, floor spawns, fishing spawns: you name it, it's there. All of this makes surviving this drop spot more than worth it.
The only caveat is that you're almost guaranteed to fight one or two opponents. But after reading our guides and utilizing our coaching services, winning shouldn't be a problem…
– Contested: 6/10
– Loot: 9/10
– Positioning: 6/10
Gas Station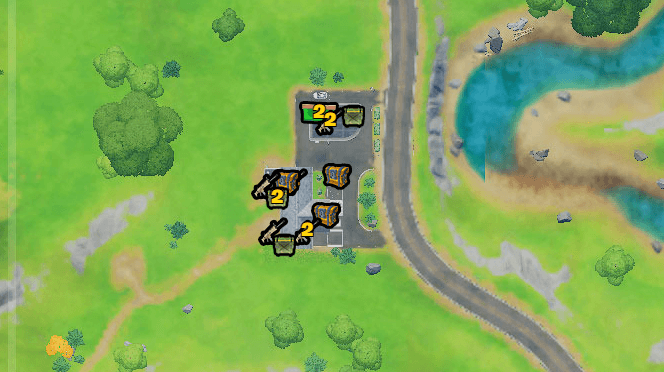 Due to popular demand, we *had* to include Gas Station in this top five list. While the loot is absolutely abysmal, you're almost guaranteed to make it to end game by utilizing this "poor man's loot route".
Hear me out. Once you rotate out of the gas station headed towards the waterfall, you'll grab at least three to four more chests (waterfall, bridge, second bridge, mountain top).
Your loot will be average at best but with the stellar positioning and lack of contest, this is a passive player's best bet.
– Contested: 1/10
– Loot: 2/10
– Positioning: 10/10
Good luck!
There you have it, guys: our favorite unmarked drop spots in Fortnite which will offer you the best chances of leaving with your life.
If you enjoyed, make sure to follow us on Twitter or Discord for more guides just like this!