The Solo Fortnite Championship Series was the biggest open Solo event of 2020 with over $5,000,000 distributed between all regions and platforms.
If you weren't among the top players to receive a cash prize for your efforts, we'll be breaking down all the major takeaways today.
But first, let's congratulate your seasonal champions!
Let's begin with the most populated and arguably most competitive region: Europe.
E11's star player Tai "TaySon" Starcic didn't disappoint the fans after an end-to-end knockout performance. From the constant off-spawn 50/50s on a single boat to pop off end games, he truly earned the $80,000 check signed by Epic Games.
Moving over to North America, we celebrate two winners (one from each coast). On the East Coast, Coop was able to prove that controller is still relevant despite recent nerfs. The West Coast scene, however, saw a breakout performance by XTRA Vert to edge out 100T Arkhram for gold.
Coop and Vert won $50,000 and $20,000 respectively.
Here's all the FNCS champions across the 7 regions: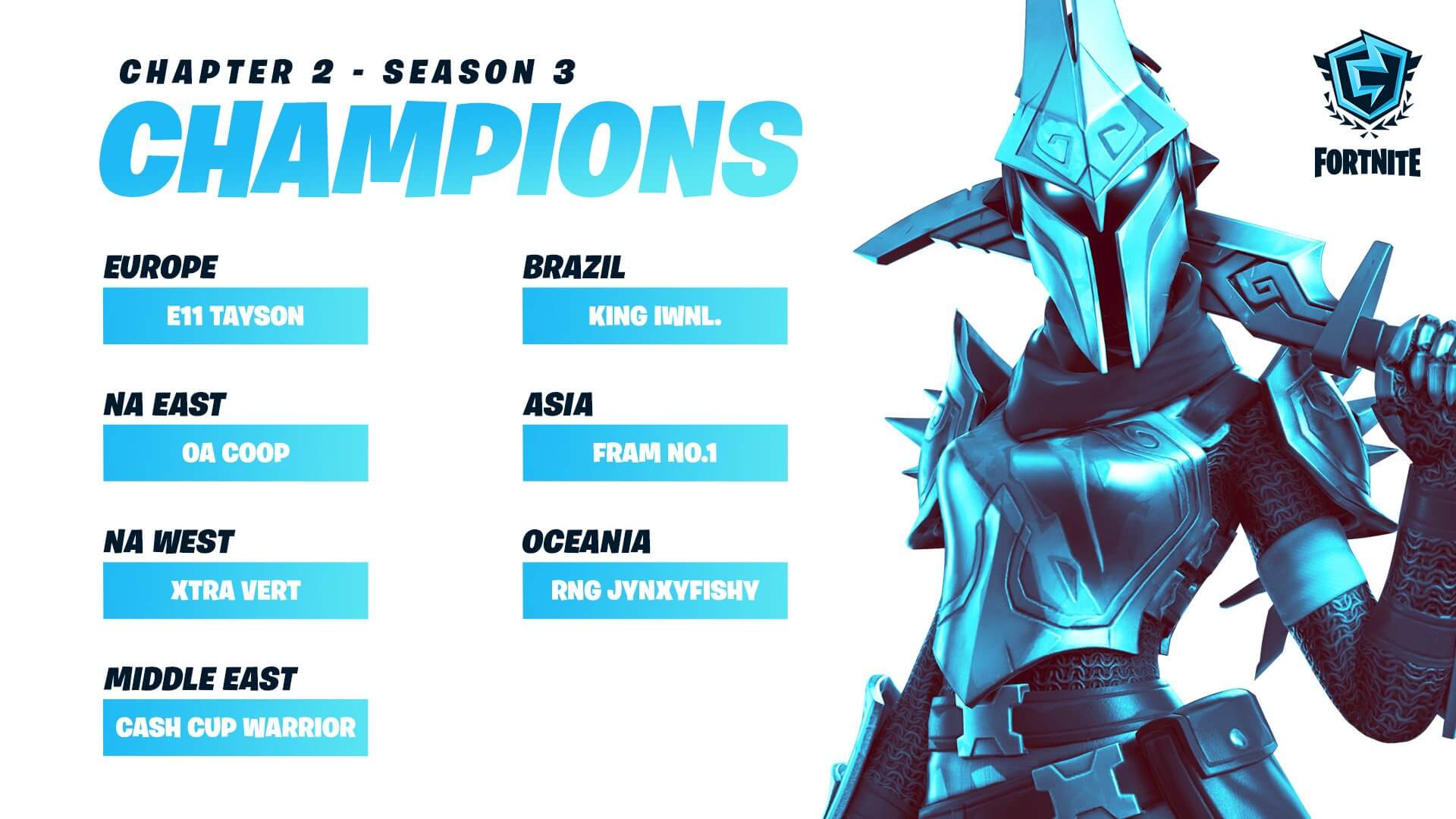 Statistics courtesy of FortniteTracker. For full stats and a detailed breakdown of the Fortnite Championship Series, click here.
RNG was a Hot Topic
Due to the all-or-nothing nature of playing in a solo competitive format, we were able to see some incredible underdog stories manifest. While making for a feel-good story, many well established pros used this as proof for why Solos isn't the best competitive format.
European superstar Benjyfishy was one of the most vocal dissenters as he aired frustrations to Twitter:
Once you look past the heated rage, the core argument makes sense: 100 players all playing for themselves is going to be naturally more random than 50 teams of 2, 33 teams of 3 or 25 teams of 4.
Fortnite's most notorious commentator and competitive analyst BallaTW piggybacked on the aforementioned sentiment in a lengthy blog post of his own:
The Key Takeaways
It's naturally harder to be a fan of solos.
Viewers who watch any competitive event naturally want to root for a specific person/team. In a 100 person Battle Royale, rooting for a single player becomes much harder when compared to 50 teams of 2 or 33 teams of 3.
Compromising competitive integrity.
It's easier for Solos players to violate conduct, plain and simple. Whether it be colluding for storm tags or splitting POIs, you can't deny that it becomes most practical to cheat in a solo situation. It all ties back to the elevated RNG which pushes players to act against their moral compass to thrive.
Polarizing an already declining playerbase.
Players find the Trios meta from Season X to be among their fondest memories despite one of the worst loot pool metas of all time (think B.R.U.T.E.). Why? Hint: it's probably due to the team-based structure.
More toxic gaming environment.
Balla notes "This to me is a recipe for disaster. There's a reason why solo scrims and solo practice is notoriously the hardest to get going, it's because very few people have the mental strength and wherewithal to handle the mode."
While Solos allows individual story lines – especially underdogs narratives – to pave their own spotlight, that doesn't necessarily make it the most competitive. Solos should be mixed in lightly with other game modes instead of becoming the norm.