The introduction of Season 4 saw a drastic change to not only the loot pool but also some fan-favourite landing spots.
Pleasant park was one of the last original POI's to have been left unchanged throughout the seasons… that is, until just a few days ago. Now it's gone and is being replaced by the infamous Doom's Domain.
While Pleasant Park was generally viewed as a solid drop spot especially in team game modes, does the modified point of interest match up as well? That's what we will dive into today.
Initial Landing
No matter how much loot is at your POI, none of it matters if you don't know the most optimal drop and subsequent loot path. Giving up the "prime" house/building/high ground puts you at a disadvantage from the rip.
Fortunately, this is one of the easiest pieces of the equation to optimize. When gunning for Doom's Domain, take a step back from the vault and land at **main house** instead. It's across from vault loot but will offer you advantages which will more than offset it.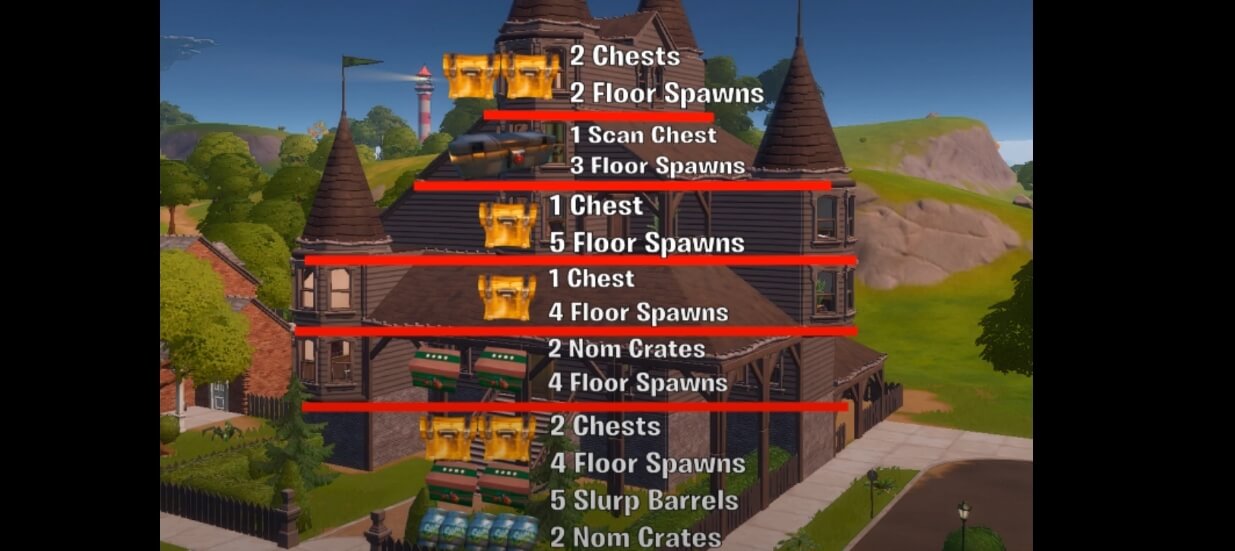 *Image courtesy of SomebodysGun
In the main house, you'll have access to 22 item spawns, 6 chests (+1 guaranteed scan chest), and 5 slurp barrels. Keep in mind that there is only a 60% spawn rate for chests so you'll get about 4 chests on average from this single house.
If you're landing here as a solo, that solves your drop spot. If you're playing Doom as a trio, ensure that two players land at the main house while another player supports from an adjacent building.
Don't get greedy for vault loot from the beginning!
Mythic Items
Similar to every other previous mythic creature, Doom will drop two mythic items upon elimination. Those are:
Mystical Bomb and Arcane Gauntlets
The Mystical Bomb sets the target environment ablaze and deals 60 damage to any directly impacted opponents. The Arcane Gauntlet is the less powerful little brother to the Mystical Bomb, dealing a constant 30 damage via high precision plasma balls.
In my opinion, these items are more fun for casual play but less useful in competitive situations. You'll probably be best off taking only the Mystical Bomb as a support tool to destroy enemy structures from the backlines.
Valuable Vault
If you've explored the old mythic areas this season, you might have been disappointed to find practically no loot in the vaults. In theory, this makes Doom's Domain a much more valuable drop spot as it's one of the only places you can get stacked every game.
On the same wavelength, better loot will mean more players to fight off. If you're a solid mechanical player and can handle the added variance of taking more off spawn fights, Doom's Domain should be a consideration.
Get smart!
From what I can tell, pro players have already taken this knowledge and put it to good use. Most regions are going through the cyclical power struggle of figuring out which trio will "alpha" the drop spot in custom tournaments. Last season, Zayt's trio took advantage of Catty Corner to secure multiple cash cup victories.
This season, Zayt alongside trusty teammates Saf and Stretched will have a crack at Doom's Domain:
Catty's loot was absolutely nerfed into the ground following this season's update so it makes sense why a team of such high calibre wants to dominate a highly competitive POI… and from what we're able to deduce: Doom's Domain has what it takes to become the next Catty Corner.
If you want to take a deeper dive into Doom's Domain or any other drop spot this season, consider booking a coaching session with expert GamersRdy coaches. We have dozens of highly qualified coaches open for 'round the clock bookings to help you reach your goals this season.